T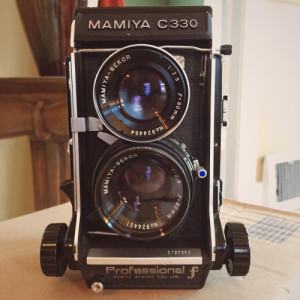 his is my new toy – the Mamiya C330f TLR medium-format camera. It's time to learn to do real photography.
Not that I do not enjoy my muscular DSLR… I think it's obvious that I do. But there is something inelegant about being able to heave the beast to my face, snap a few quick shots, and fix the alignment, exposure, crop, etc. in post. While I have an understanding of the elements of photography – the f-stops, the depth of field, the focal length, the shutter speed and so on – mastery of them has never been imperative.  Reliance on photoshop, lightroom, gimp and darktable (and, of course, smartphones) has made learning the art secondary to learning the software. And as I've become somewhat adept at utilizing post-processing programs, I have stagnated.
This is a pattern: eschewing proficiency for easy results. When I was a teenager learning to play guitar, I pursued knowledge of how to play popular songs rather than delving deep into music theory or attaining dexterity with the instrument. When I was writing during my collegiate years, I gravitated toward wry, shallow verses scribbled in notebooks and left inert rather than honing a craft, revising, being precise or deliberate. And when I chose a career path – at length, but I eventually chose one – I opted for the path that would assure comfortable earnings rather than pursuing a passion, and struggling.
So it is with photography too. I took the easy (and enjoyable, though… it has been enjoyable) path. I wanted results now. And now… I feel my enthusiasm for it grinding toward stillness. I have a nightmare vision of a camera collection in a corner growing cobwebs with the guitars and the notebooks.
Well, not this time. This time I'm going to try to go deeper.
This camera was produced sometime between 1972 and 1982, and – I can tell you after a day of lugging it around Alabama's Black Belt region – it's built like a tank and is not for the weak-of-neck.  There are zero electronics – this is all mechanical and requires manually calculating every value. It also is going to be an exercise in patience… as I won't see any results until I get the negatives, prints or scans back from the lab. Gone is the luxury of deleting shots I don't like. I get 12 frames to a roll of 120 film, and the results are what they are.
Or screw it, we'll see if I still have enough hipster in me to shoot film.
I have 9 rolls left (I shot one over the weekend). I'm thinking they should accompany me to New Jersey and NYC next week.