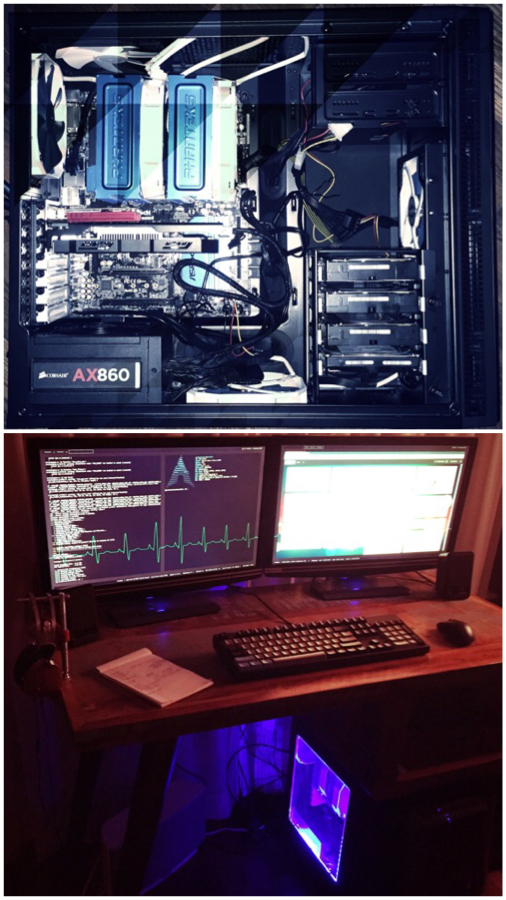 Hello out there.  It has been a couple of months (and much longer, if you want to talk about original content), but I am still here and I have been doing things.  Today I will talk about one such thing, with the preface/caveat that I have no background in technology and zero experience in the topic about to be discussed.  Are we okay with that?  Good.
I am a tinkerer.  Without a project, boredom sets in real quick.  So I seek out creative outlets: photography, music, this blog, etc.  Over the past year and a half or so I became enamored with Linux and open-source software and technology.  The idea of breaking free of pre-packaged operating systems and putting together a system that does exactly what I want and nothing more, with programs largely developed for and by passionate end-users rather than monolithic corporations, intrigued me.  In January I took things a step further.
We had a desktop computer (an HP something or other), maybe 4-5 years old, that was used, sparingly, for word processing, emailing, work-from-home type stuff – basically all the hard-core computing, photo storage and processing, browsing was done on laptops, phones and tablets at that point.  But the desktop was still good for sitting down in a chair at a desk and getting things done; and we had two large flat-screen monitors that would have made for some excellent photo-editing sessions had the desktop been more powerful.  As it was, it had gotten cluttered, old and slow.  Then it died.  Now, I'll readily admit that all it probably needed was a new power supply or something fixable like that.  But why not take the opportunity to upgrade and maybe have a machine that would actually be useful for more than just occasional, minor work?  And why buy something manufactured for the uncultured masses, hopelessly pre-configured and bundled with useless crap we don't need?  Why not build one from scratch?  So it began.
More words of caution: this is not a how-to guide.  It's just an anecdotal overview of my personal computer-building experience.  I am going to list some of the parts I used.  This does not mean these are the best parts or the parts for you.  I am not an expert.  I DON'T KNOW WHAT I'M DOING.  There are good places to go online if you're researching doing this on your own.  Lifehacker has a great guide.  There's a subreddit devoted to it.  PCPartPicker is indispensable as it lets you choose your components based on their compatibility with each other (as well as which vendors have the parts in stock, customer rating, pricing, etc… that site is a godsend).  And speaking of sourcing components, my parts were ordered from Newegg, Amazon and NCIX US (which was a little slower, but had unbeatable prices on the processor and solid-state drives).  So, those are great resources.  This blog is not.  Onward.
It's good to have a purpose in mind when you start in on a project like this.  What do you want the finished product to be able to do?  This was a no-brainer for me – I wanted a system that would 1) be powerful enough to run modern photo-processing programs quickly, 2) not be outdated in a year, and 3) have enough storage space for my large and growing photo archive.  As I am not one to do anything halfway, it also needed to be badass.  I don't really play computer games (Goat Simulator notwithstanding) or do any high-load graphics or video work… but the system I built will probably do that just fine.  Just in case I decide to take up a new hobby, right?
To the parts.  The brains of the operation is an Intel Core i7-4790K 4.0 GHz, quad-core, hyperthreading, overclockable CPU.  It is blazing fast.  And if I were to overclock it (I have overclocked it… minimally), well I need to keep those core temperatures down.  To accomplish that task I went with the well-reviewed Phanteks PH-TC14 CPU cooler.  And let me tell you, the photos online do not do justice to how gigantic this thing is.  Those two huge, blue radiator towers with their twin cooling fans are pretty much all you notice if you look at my finished product.  I was somewhat worried that, when mounted, the thing wouldn't fit in the case.  But, as it turns out, the case I selected – a Fractal Design Define R5 (with window, because why put time and effort into building this thing and not be able to bask in its beastly glory when I'm done) – was gigantic too.  I don't know what I expected when I ordered a "mid-tower" case… except that I knew there was a "full-tower" size that was larger.  I cannot imagine how big those things must be.  This case barely fits under my desk.
For RAM, I got 32GBs (I know, it's more than anyone needs… but I'll be damned if my laptop is going to have more memory than my desktop… yes, I went overboard on the laptop) of G.Skill Trident X-Series DDR3-2400 memory.  It came with red, metallic cooling fins on top, but, as the behemoth CPU cooler hangs over the memory modules, I had to take those fins off.  I have it on good authority (the internet) that the cooling fins are mostly for show and that the RAM doesn't heat up that much.  The video card is an Asus Radeon R7 250X 2GB with two cooling fans of its own.  Storage-wise, I opted for two Samsung 850 Pro 256GB solid state drives and a Western Digital Black 4TB 7200RPM internal hard drive.  And, as the Define R5 has 8 drive bays, I took the two WD Red 3TB drives out of my unused NAS plus the old 1TB drive out of the old HP machine.  Yes, I built a pc with 11 1/2 terrabytes of storage.  I know.
The case came with two 140mm fans with space for more.  So I bought three more.  In my configuration there are two intake fans in front and one on the bottom, and one exhaust fan each on top and in the back of the case.  So the air circulation is lower front to upper back, positive pressure, with the graphics and processor fans pointed that direction as well.  Am I patting myself on the back?  Yes.  It works exactly as designed, and with all that airflow plus a well-insulated case, it is the quietest computer I have ever owned.  The case fans are controlled by a digital fan controller I installed into one of the two external drive bays.  The other bay holds a multi-card reader for photo transfers and such.  All this is connected to an ASRock Z97 Extreme6 motherboard and powered by an energy-efficient Corsair 860-watt modular power supply.
With any project, of course, there are little miscellaneous expenses here and there.  I needed a toolkit with different screwdriver heads, tiny pliers, a anti-static wrist strap thingy and so forth.  There were a couple of cables I needed for the fans.  There may have been a couple of blue LED light strips.  I know.  Anyway, the parts arrived staggered over about a two-week period.  As they got to the house, I did as much pre-assembly as I could.  There's not much to say about putting it all together.  I followed the instructions, took my time, and had no issues at all.  Well – one issue: the motherboard has TWO power connections, a 24-pin and an 8-pin for the processor.  Both of those have to be plugged in for it to work.  There was a moment of horror when I first pushed the power button and nothing happened.  But all told, it was a flawless victory.  Once power was connected to all the components, it fired right up.  Then, did I install Archlinux on that bad boy?  You're damn right I did.
One of the SSDs is dedicated to the operating system and applications, and it makes boot time blisteringly fast.  The other SSD is the 'home' drive with working directories for me and my wife.  This space is for files we or the system will deal with often or need rapid access to, plus temporary files, configurations, etc.  For long-term storage, it's the WD 4TB drive – currently holding 8+ years of photographs and my wife's entire work history.  The two 3TB former NAS drives are plugged into to the 'HDD-saver' connection on the motherboard, which basically means they don't even spin up until they are needed.  I installed KDE's new Plasma 5 desktop environment for my wife, with familiar icons for internet, office, and remote networking.  My setup is my old reliable herbstluftwm, with Darktable for photo processing and management.  (I have also been trying out the new Vivaldi web-browser alongside Chromium on the new machine.  Still in development, but I like it so far.)
There you have it.  I HAVE CREATED LIFE!!!  Go about your business.  More to come.
D