I'm a little upset that it was not until today that I read Philip Larkin's "Aubade," which pretty much sums up my feelings – the fears and angers and anguishes – toward death.  I present the poem here in its entirety, along with other snippets and variations on themes of life, death, learning and literature.  (An 'aubade', by the way, is traditionally a song or poem about lovers separating at dawn.)
"Aubade"

I work all day, and get half-drunk at night.   
Waking at four to soundless dark, I stare.   
In time the curtain-edges will grow light.   
Till then I see what's really always there:   
Unresting death, a whole day nearer now,   
Making all thought impossible but how   
And where and when I shall myself die.   
Arid interrogation: yet the dread
Of dying, and being dead,
Flashes afresh to hold and horrify.

The mind blanks at the glare. Not in remorse   
—The good not done, the love not given, time   
Torn off unused—nor wretchedly because   
An only life can take so long to climb
Clear of its wrong beginnings, and may never;   
But at the total emptiness for ever,
The sure extinction that we travel to
And shall be lost in always. Not to be here,   
Not to be anywhere,
And soon; nothing more terrible, nothing more true.

This is a special way of being afraid
No trick dispels. Religion used to try,
That vast moth-eaten musical brocade
Created to pretend we never die,
And specious stuff that says No rational being
Can fear a thing it will not feel, not seeing
That this is what we fear—no sight, no sound,   
No touch or taste or smell, nothing to think with,   
Nothing to love or link with,
The anaesthetic from which none come round.

And so it stays just on the edge of vision,   
A small unfocused blur, a standing chill   
That slows each impulse down to indecision.   
Most things may never happen: this one will,   
And realisation of it rages out
In furnace-fear when we are caught without   
People or drink. Courage is no good:
It means not scaring others. Being brave   
Lets no one off the grave.
Death is no different whined at than withstood.

Slowly light strengthens, and the room takes shape.   
It stands plain as a wardrobe, what we know,   
Have always known, know that we can't escape,   
Yet can't accept. One side will have to go.
Meanwhile telephones crouch, getting ready to ring   
In locked-up offices, and all the uncaring
Intricate rented world begins to rouse.
The sky is white as clay, with no sun.
Work has to be done.
Postmen like doctors go from house to house.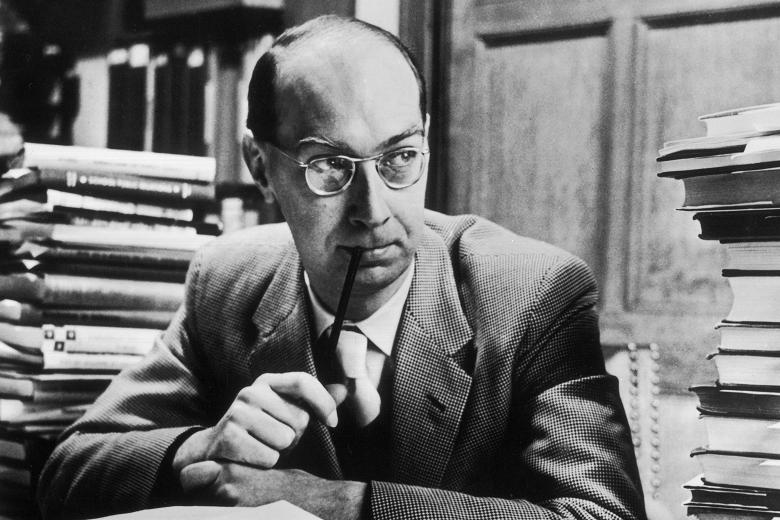 If you suddenly and unexpectedly feel joy, don't hesitate. Give in to it. There are plenty of lives and whole towns destroyed or about to be. We are not wise, and not very often kind. And much can never be redeemed. Still life has some possibility left. Perhaps this is its way of fighting back, that sometimes something happened better than all the riches or power in the world. It could be anything, but very likely you notice it in the instant when love begins. Anyway, that's often the case. Anyway, whatever it is, don't be afraid of its plenty. Joy is not made to be a crumb.
To read is to fly: it is to soar to a point of vantage which gives a view over wide terrains of history, human variety, ideas, shared experience and the fruits of many inquiries.
With reasonable care and a hell of a lot of luck you might last another ten years, or five years, or two years, or six months, but then of course again on the other hand as I'm sure you'll appreciate trying to be completely objective about the matter you might not. So in future, if there is any, every birthday is going to have a lot of things about it that make it feel like your last one, and the same with every evening out, and after four of your five years or five of your six months the same with most things, up to and including getting into bed and waking up and the rest of it. So whichever way it turns out…it's going to be difficult to feel you've won, and I don't know which is worse, but I do know there's enough about either of them to make you wish you could switch to the other for a bit. And it's knowing that every day it's more and more likely that one or the other of them will start tomorrow morning that makes the whole business so riveting.

~ Kingsley Amis, from The Green Man
The monotony and solitude of a quiet life stimulates the creative mind.
The ability to read awoke inside me some long dormant craving to be mentally alive.
When you meet a master swordsman, show him your sword.
When you meet a man who is not a poet, do not show him your poem.
Today I'm defeated, as if I'd learned the truth.
Today I'm lucid, as if I were about to die
And had no greater kinship with things
Than to say farewell, this building and this side of the street becoming
A row of train cars, with the whistle for departure
Blowing in my head
And my nerves jolting and bones creaking as we pull out.

Today I'm bewildered, like a man who wondered and discovered and forgot.
Today I'm torn between the loyalty I owe
To the outward reality of the Tobacco Shop across the street
And to the inward reality of my feeling that everything's a dream.

~ Fernando Pessoa, from The Tobacco Shop
We read to know we're not alone.
Remind thyself, in the darkest moments, that every failure is only a step toward success, every detection of what is false directs you toward what is true, every trial exhausts some tempting form of error, and every adversity will only hide, for a time, your path to peace and fulfillment.