The nightly ritual in our house is to eat dinner in front of the television and watch a documentary.  During the week, it's usually an hour-long episode of a science- or history-themed TV program.  On the weekends, we will often opt for a feature-length selection.  Tonight we watched C. Scott Willis's 2011 biography of Francesca Woodman – a young, prolific and talented photographer who tragically committed suicide in 1981, at age 22 – via her work and through the eyes of her family and close friends.  The movie is The Woodmans, and I highly recommend it.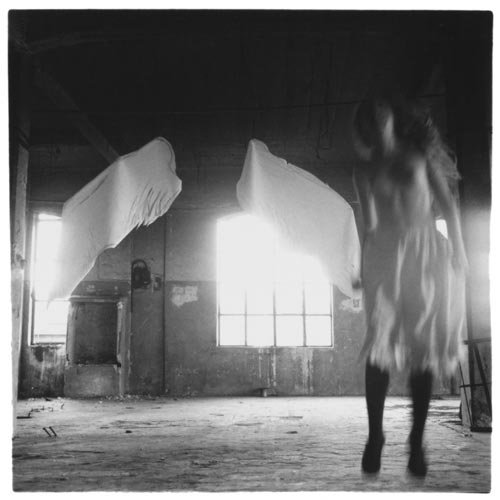 I'd never heard of Francesca before tonight, unless you count reading the Netflix description of the title that had resided in my queue for a year, but it is clear to me that she deserves to be regarded as one of the bright artistic minds of the 20th century.  Her work is stunningly modern – for having been produced by an art student in the late 1970's, the photographs are crisp, surreal, provocative, and cleverly and methodically designed.  And it is this last quality – the deliberateness of the work – that really speaks to me.  The work itself stands on its own, to be sure, and it should… the narrative doesn't need to be about the artist's youth or tragically short life, but instead speaks volumes for just what it is – art in its own right.  I can and do admire it for that.  But I am always on the lookout for what I can learn; what I can take away from a work of art or literature or from an experience or a relationship.  What I can learn from Francesca Woodman, and from her family, who are all artists, is the duty and dedication to the craft.
Francesca, in her brief time as a photographer, threw herself completely into making her art.  She lived it.  Everything she did served it.  Her romantic relationships, her bonds with her parents, where she lived, who she talked to, who her friends were, where she worked, even, detrimentally, her state of mind – it all came down to achieving the creation of art that said what she needed to say.
That dedication is admirable to me because of its absence in me.  I have passions – passions for writing and for photography.  Older passions for poetry and music.  Trades and skills like flying airplanes or accounting and auditing.  But I am not and have never been a master of any of these things.  Some of that is just a function, I think, of how I'm wired – taking on new projects and discovering new ways to either to experience life or to express myself keeps life from going stale.  But I'm also a little weary of being the constant dabbler.  I do care about art and about creating meaningful things.  It does not mean much to me to be recognized by others, something that Francesca longed for… but it is important that I feel I have created something of value, even if it is only of value to me.
Why, then, do I half-ass my life's work?  At one point in the film, Francesca Woodman's father talks about the life of the artist – perspectives he passed on to his daughter.  Paraphrasing – he says that an artist does not decide, because he does not feel inspiration that day, to stay away from his/her studio.  The artist goes to the studio and "sharpens pencils" – the artist works on his art whether he is inspired or not.  The inspiration will come when it comes.  The artist must still choose to do art.
I am, at best, a lazy artist.  I am passionate about it, but I do not dedicate myself to it.  If I'm tired, I will nap or pursue less taxing endeavors.  If I am cranky or listless I'll seek out some cheap fix for happiness – a sweet snack or an hour or four browsing the internet – when the real solution for my unrest would be to indulge my passions, dive in and create, practice, learn, grow, make something, dammit, anything, something worthless maybe but something tangible, something that propels me forward.
And at one point during the documentary I had the thought that, maybe, it was easier in that era to be focused and deliberate and caring about what you were creating as a photographer.  You had to be.  In the pre-digital age, every click of the shutter cost something.  Film was an expense, and developing an image took time and energy and supplies.  You had to take time to ensure your image was the right image – the image you wanted.  Whereas I can snap off round after round of images without a care in the world.  I am not constrained.  I can afford to be careless.  Except if I'm careless I never learn to craft the image.  I'm just letting good images emerge through happenstance.  That doesn't make me an artist.  That doesn't make me a photographer.  Soccer moms with iPhones can make an image just as easily as I can, and with the same success rate.  (And I'm not intentionally belittling myself – I do think that I have an eye for what makes a scene special, and I do think I have important things to say in words and images.)  That my instrument is a DSLR and that my processing is done on a computer instead of inside a darkroom neither means that I have it easier nor that analog photographers were/are intrinsically more creative.  The margins we butt up against are different; we are expanding in different ways… which is the essence of creativity anyway.
But I do not take the time to do it the right way.  So art does not get done at all.
Some viewers – maybe most viewers – might watch The Woodmans and come away feeling sad about the tragic ending or depressed about the talent squandered by Francesca's choice to cut her own life short.  It is a tragedy.  But there is a brightness that shines through her story – just as her powerful artistic vision shines through what some might call small, melancholy photographs.  That's what I took from the film tonight.  The need to dedicate time and energy to the things I am passionate about.
So, there.  Check out the film or some of Francesca's work.  It's art.  It's worth it.