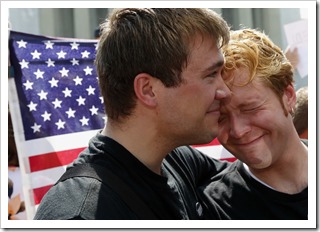 It's Sunday, where recent tradition says I am supposed to post something stimulating, enlightening, inspiring.  I can't think of anything more inspirational that happened over the past week than the Supreme Court's ruling that the despicable Defense of Marriage Act is unconstitutional (and their upholding of a lower court's invalidation of California's Proposition 8).  I'm not so naïve as to equate this with something akin to nationwide legalization and recognition of same-sex marriage – this is still a long fight.  But it is right.  Go google the news articles and opinions.  Look at the photographs, like this one here.  The outpouring of joy.  Now try to justify to me why it's right to marginalize these citizens, to deny them the same rights that my wife and I enjoy. 
The opponents of gay marriage are wrong.  Pure.  Simple.  Black.  White.  There is no justification.  Even if you don't agree with it, it does not affect your marriage in the slightest.  It doesn't affect your lives at all.  If anything, all it affects is your egotistical, misguided and antiquated world-view – and the rest of us are under no obligation to help you perpetuate that. 
Denying equal rights to GLBT couples does nothing but increase the totality of sadness in the world – and there's enough sadness already built into life without human society adding more suffering to it.  We all deserve to love who we want and live our lives with who we want without segregation, limitation, or penalty, so long as our desires and activities do not violate anyone else's rights – their ability to live their lives to the same degree.  That's it.  That's basic human reason.
And don't thump your Bibles, Qurans or Torahs at me either.  I grew up steeped in Christian tradition, and even as a child and teenager I could have still told you that "love thy neighbor as thyself" trumps any grotesque, irrational, indefensible Old Testament pronouncements.  The way I see it, that truth is, in the parlance of America's founding fathers, self-evident.  It needs no mythological or spiritual framework to remain correct.  It does not apply to one nation, one class, one clan over another.  It's a human right.  It's THE human right.  The concept of the equality of all human beings is a universal principle, and any institution that infringes on that equality is evil.
In further celebration of this week's events, here are some vintage photos from some of the first-ever pride parades in the late sixties / early seventies.  Pretty cool.  Shine on you fabulous diamonds.  And know that there are those of us of the straight persuasion – even down here in the Deep South – that stand with you, passionately and always, until the last barriers are broken down.