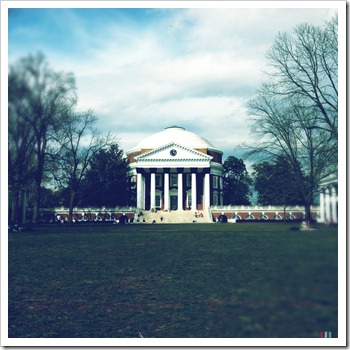 The majority of this past week was spent in Charlottesville, Virginia: my first time visiting the quaint little college town, my first business trip with my new company, and my first as an internal rather than an external auditor.  As I was there for work, I did not bring the DSLR; but I did try to capture some of the more interesting moments and vistas with the iPhone's camera.  Obviously, one per day was posted and archived over at Schnappshusse!, but I will take this opportunity to share some additional snapshots.
The hospital complex itself was in a very pretty setting, maybe a half mile from the University proper.  It was below freezing with snow on the ground when we arrived on Monday; by Thursday afternoon it was in the low seventies and made for a gorgeous, if abbreviated, day of sightseeing around Virginia's campus.  Edgar Allan Poe's dorm room was a highlight.  We drove the ten minutes up to Monticello, but by that time we A) were dead tired and dreading our break-of-dawn flight out on Friday (which I came way too close to oversleeping for, despite trying for an early bedtime), and B) didn't feel like paying the fifteen dollar admission fee that I'm pretty sure isn't covered by our per diem.  So we just saw the visitor center and gift shop.  Another time.
I snapped the following sequence from the second floor: these two students dancing on the steps of Thomas Jefferson's Rotunda.  What a fun end to the engagement.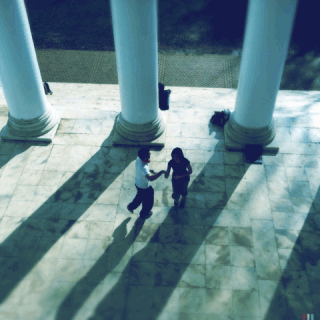 For anyone who ever finds themselves near UVA and hungry, the local places we ate and found acceptable to very good and fairly moderately priced were: Carmello's (Italian), Guadalajara (Mexican), Thai '99 (Thai, go figure), Rhett's River Grill & Raw Bar (Seafood), and South Street Brewery (American).
Next audit is Tyler, Texas in two weeks.  I'm thinking we might have to work a little harder to find interesting and picturesque things to see/do/eat there.  But maybe that's me being too closed-minded about the Lone-Star State.
Many kudos to Hipstamatic.  I'm rediscovering it after having migrated to more hands-on/heavy-handed photoediting iPhone apps last year.  (The new Made In America pack is awesome.)