Two years.  Wow.  And it seems like merely two weeks ago I was here recapping year one.  Time.  It is a funny thing.
Year two (6/2/2010 – 6/2/2011) was a period of many changes.  In June I was notified that my position at a small, local accounting firm in Birmingham was going to be eliminated by year's end.  By August I'd found another CPA firm in Albuquerque that seemed like a great fit for me, and with more resources and opportunities for growth and specialization, so I moved myself and my family across the country to gorgeous New Mexico. By December, amid political scandal, my new, local firm was sold to a national firm.  So it goes.  At least the landscapes are beautiful and the weather is out of this world.
In year two I also graduated to a shiny new iPhone with its cornucopia of camera apps.  My shots continued to become more thought-out and a bit more post-processed.  The original premise, however, remains the same.  This is a daily record of my life.  This list is intended to provide a decent representation of the bulk of images taken throughout the year.  Also, I cheated.  There are more than ten.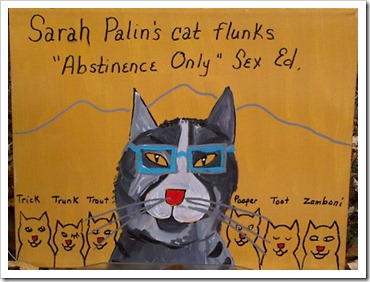 11/21/2010 – Sarah Palin's Cat
10.  I wish I knew who the artist was.  There were about twenty of these paintings being sold on the lawn outside a Taos art gallery.  I also wish I'd bought a couple.  I don't think they were all politically-themed, but this one was the funniest of the set.  Sarah Palin's popularity baffles and saddens me.  She is a horrible person who, at best, is a shrewd politician who has built her support through fear-mongering and pandering to the under-educated low denominators.  At worst, she is unintelligent (or woefully misinformed) and suffers from an even greater lack of curiosity about the world than George W. Bush did – and that is saying quite a bit.  Even the satire is, on some level, depressing… it indicates that the mass media still considers her relevant.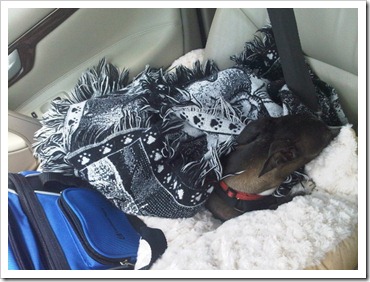 8/13/2010 – Miles On The Road
9.  Miles and I spent two days driving from Alabama to New Mexico, stopping in Oklahoma City for the night.  I cannot imagine what was going through his little doggie mind.  He was a trooper, though, even when the a/c froze and we had to spend about 10 minutes of every hour letting it defrost whilst baking in the summer heat.  After figuring out that whining and looking frantically out the window and pawing/licking my arm was not going to change his situation, he curled up and went to sleep in the passenger seat.  A great road trip with a wonderful little companion.  Miles is a good doggie.  Yes he is. 
2/27/2011 – Number Cruncher
3/27/2011 – Sad Giraffe
8 a+b.  One of the main reasons I chose the new iPhone over an Android model was the existence of the Hipstamatic app, which basically simulates photos taken with antique film cameras.  The several "film" and "lens" filters can be randomized by shaking the phone.  It is great fun, and the haphazard-ness of the various configurations encourages the user to take plenty of pictures.  There are always some pleasantly surprising results in each batch, and these are just two examples.  The first is of an an antique adding machine in a Central Ave. thrift store.  (There were several daily snap candidates from that outing.)  The second is one of the giraffes at the Albuquerque Zoo.  It is not, in fact, sad.  Despite the sign instructing zoo patrons not to feed the animals, one ambitious spectator jumped the low barrier and offered this giraffe a snack.  So he is actually lowering his head so the young hooligan could pet him.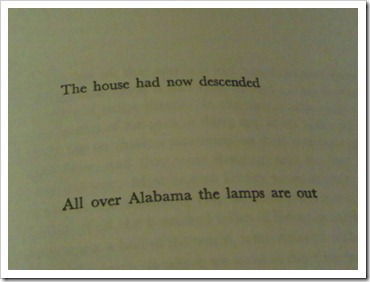 10/13/2010 – Depression Era
7.  A page from James Agee's and Walker Evans' Let Us Now Praise Famous Men.  I was reading this masterpiece on assignment in Los Alamos, New Mexico.  Sequestered in a modern but isolated Holiday Inn Express, in a town that pretty much closes down at 5, I got plenty of reading done.  It was a lonely time – newly departed from my long-time home and also away from my new home (and my wife, who had only recently joined me in Albuquerque) – it was hard not to let the sadness creep in.  Even though it takes place in Alabama in the 1930's, the descriptions of the landscapes and small towns still took me back and made me a little homesick.  The book itself is a strange and exciting mix of poetry, photography, memoir and journalism.  Highly, highly, highly recommended.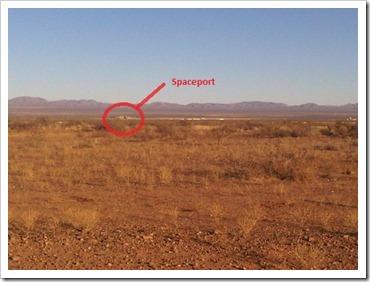 12/7/2010 – The Closest You Can Get to the Spaceport
6.  After months of auditing on-site at governmental offices in stuffy, windowless boardrooms, I was stoked to find out that they needed someone to travel three hours south to perform walkthroughs for the New Mexico Spaceport.  I made sure to have my camera with me in case I got to see one of the aircraft or futuristic hangars and so on.  Alas.  The walkthroughs were performed at the Spaceport's offices in Las Cruces – nowhere near the actual Spaceport America site.  After my audit procedures were done, I took the poor rental car off-roading toward where the meager interstate signage indicated the actual spaceport was located.  An hour down winding, forking dirt paths in the middle of nowhere, I finally saw the terminal hangar facility come into view across the desert.  It was as close as I could get.  The northern access road, which I came upon a few miles later (after almost bogging down in a sand pit… seriously) was guarded and barricaded against public access.  On the long, rattling drive back to civilization, I snapped this picture.  You know what?  It's still pretty awesome. 
12/23/2010 – It Still Glides Down The Night
12/25/2010 – You Can't Beat Home Sweet Home
5 a+b.  Home for the holidays.  We flew back to Montgomery, AL for Christmas with the family.  My folks picked us up at the airport and I drove my old chariot, the '95 Mustang GT my parents gave me, brand new, as a high school graduation present, to the lake house for some glorious and much needed quiet time.  That car and I have been through a lot together.  Late at night when I couldn't sleep, I used to pop a CD in the stereo and just drive around in the wee hours.  I drove it back and forth from home to college, usually very late at night as well.  And then, when I was in Orlando, I would sometimes start out after a visit to Alabama at some ungodly hour and drive until I couldn't keep my eyes open any more.  When I was alone, driving at night was one of my favorite things.  Something romantic about the dark, empty roads, I suppose.  Anyway, those memories came flooding back when I plopped into the driver's seat and fired up the engine.  It is a magnificent machine.  I'm glad my parents are keeping it garaged for me.  We aren't done with our adventuring yet.  The other pic is from Christmas day.  My family's living room on Christmas is still one of the warmest and happiest places for me.  Living farther away made it even more special this year.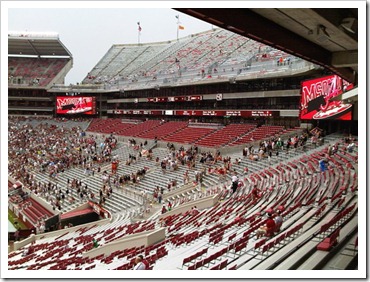 9/11/2010 – The South End Zone
4.  Bryant-Denny Stadium unveiled its new southern end zone this year – increasing seating capacity to 101,821 .  The upper deck has finally been extended around its entire circumference, and now the crowd noise is absolutely deafening.  Four gigantic video scoreboards are positioned in each corner, and video display boards wrap around the rest of the structure.  It is an impressive sight.  This was taken prior to the Alabama – Penn State game (final score: Bama 24, Penn St. 3… Roll Tide).  You knew there was going to be at least one football-related pic here, didn't you?  And I thought it would probably be in poor taste to select this one.
3/11/2011 – The EMTs ignored Dad's request: he did not get to ride in the fire truck.
3/12/2011 – South From Sandia Crest
3 a+b.  My parents made it out to Albuquerque to visit us in March.  I'd taken the day off, and while we were waiting for Leslie to join us we were going to take a walk from their hotel down to Central Avenue to see the sights.  My dad took a bad step on the uneven pavement and sprained his ankle, badly (we initially thought it might have been broken – the swelling was horrendous).  I'm guessing it was about 30 yards to the street where I could have pulled my car around and taken him to the hospital myself, but he could not put even the slightest amount of pressure on it.  So we called for an ambulance.  Imagine my father's surprise when a fire truck arrived and the EMT guys rushed out and started taking vitals.  Quite the scene.  Dad was in high spirits the whole time, but was a little aghast at all the attention.  Needless to say, this photograph had to be taken.  The next day we drove up to Sandia Crest.  My dad, on crutches, couldn't make the walk to the top, but I snapped this picture with an HDR app (pretty nifty) and sent it to him later.  A great weekend.
6/1/2011 – Unlucky Beaver
2.  This gem just made it in under the Year Two deadline.  One week ago we went to Loveland, Colorado to adopt a little 4-year-old Italian Greyhound from the rescue group there.  His name is Kaspar, and this is the first pic of him and Miles playing together.  He is already a special part of our little family. 
6/16/2010 – The Self-Portrait
7/4/2010 – A Day At The Lake
7/12/2010 – His Holiness, The Gummy-Pope
7/18/2010 – Rooster Rodeo
1 a-d.  The Gummy Bear Series.  Come on.  You knew this was coming.  Nothing I have done online has gotten more of a response than these snapshots, taken over a period of about two months in the summer of 2010.  People still compliment me on them and occasionally clamor for more.  Do you know how hard it is to come up with more things for gummy bears to do?  They're expressionless, inanimate objects.  At least if I was working with action figures or stuffed animals I could pose them or something.  Geez.  Still, it was a lot of fun finding something for the gummies to do every day.  If the inspiration hits me right, then who knows?  There may be a second series in the works. 
And there you have it, folks.  I would encourage everybody to memorialize each day, whether it is in pictures or in writing or anything else.  Every one is special and worth holding on to, looking back on, and remembering.