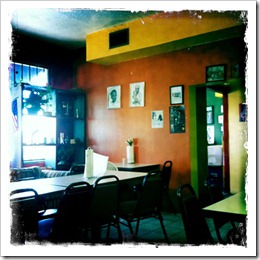 For the past six months, ever since I relocated to the Land of Enchantment in mid-August, I have taken every chance to regale my friends and relations back home with tales of the glorious food culture here in New Mexico.  It did not take long at all for green chile stew to become one of my go-to kitchen concoctions, and if I go a week or so without huevos smothered in red chile sauce I start going through withdrawals.  I serve steaks with flour tortillas on the side.  Every time I fly back in to the Sunport after a business or pleasure trip, I hit the Frontier before going home.  The food here is awesome, and I have adopted it and rave about it. 
I say all that to say this: today, it is time to give my native South some love. 
Today I discovered Pepper's, and holy shit it is slap-your-momma incredible.  Pepper's is located across from the New Mexico State Fairgrounds on San Pedro Drive, in a little strip next to a payday loan store and a barber shop.  Pepper's proper name is Pepper's Ole Fashion BBQ and Soul Food, and is owned by Daniel "Pepper" Morgan — who learned to cook from his grandmother, was once the Dallas Cowboys' official barbeque-er (the fact that that position exists makes the world a better place), and whose eyes lit up when we told him we were from Birmingham (he used to visit 'Bama with some of his fraternity brothers and remembers the Jefferson County pig ears and chitterlings fondly).
We knew we'd found the right lunch spot when we spotted the two hand-painted signs along San Pedro announcing "BBQ!" and "Turkey Legs!" and the iron barrel grill in the parking lot wafting aromas that could only originate from meats on the tail end of a good 7-8 hour long smoking.  Mr. Morgan mans the grill.  Mr. Morgan cooks the veggies — which today included fried okra, collard greens and mac & cheese.  Mr. Morgan runs the register, which is cash-only since the credit card machine broke. 
There is bottled water available, but we chose a couple of cans of soda from the ice-filled cooler in front of the counter.  Mr. Morgan brought our meals to the table.  I had the brisket.  Leslie chose the ribs.  I will definitely be going back to sample the turkey legs and catfish.  Sweet-potato cornbread and two pieces of white bread are served with each platter.  There is Louisiana Hot Sauce and other condiments available in the knick-knacked dining room.  There is also a couch where I fantasized about spending the rest of the afternoon sleeping off lunch with the smells from the grill piping in through the windows. 
The verdict?  We will be regulars here.  Damn. 
So, to my readers in Albuquerque: you owe it to yourselves to pay Pepper's a visit.  This endorsement comes from someone who was born and raised in the Deep South.  This is real soul food and real good.  I want Mr. Morgan to adopt me and take me home with him.  So, stop by sometime.  You will probably see me in the corner booth with a brontosaurus-sized turkey leg in hand and a roll of paper towels at my side.  Ignore me.  I'm back home.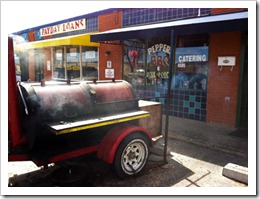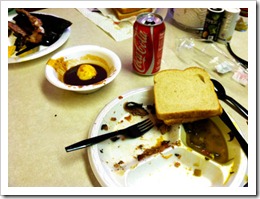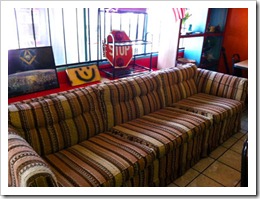 Lovingly cross-posted to Duke City Fix.