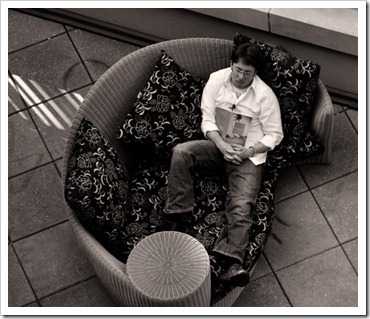 Look who's back.  It is I, the grammaticaster.  I have returned.  Look upon me, ye mighty, and despair.  Yea, tho' the tax season hath indeed been a taxing one, and (enough with the BS) though I have barely had time to read a book or publish a photograph, I have had Mutis's Maqroll as my constant 10-pg-a-night companion and have taken enough Sunday breaks to end up with more than a few worthy snapshots just waiting to be rediscovered and digitally developed.  The past post-4/15 week has mostly been about determining where to re-begin.  My creative world – my right brain and its worldly instruments – feels a little like the home to which I am finally returning after a full quarter business trip.  There is some maintenance that needs to be done:  dust to be knocked off the shelves, light bulbs to be replaced, items to be put away in their proper places, and so on.  And, as is often the case in the early moments of crossing that threshold and opening the windows to air the place out, the best starting point can be a little difficult to discern.  It seems like there is much to be done or, more to the point, so much that has been left undone for too long.
First, some words about my tax season.  It is not nearly the soul-draining mundane marathon that other accountants face every year.  Our tax clients are mostly high net-worth individuals who have been coming to us forever or owners, employees and associates of our attest clientele, for whom we also file corporate and partnership returns.  There is no demoralizing deluge of anonymous newbie paperwork that descends upon our heads at the last minute.  Our tax work requires us to work on Saturdays merely because our governmental and non-profit audits take up all of our weekday hours.  There are no late nights.  No whip-cracking.  But it is amazing what the intensified level of activity and the loss of one of two off-days does to the artistic self.  Sleep and rest become what the brain and body need.  Attempts to work on non-income-producing creative side-projects are shelved in favor of recuperation and home maintenance.  In short:  I come home on time, but totally on autopilot.
Probably a larger problem was the fact that I entered this tax season with no creative forward momentum.  I coasted in, and now I am coasting out.  The silver lining there is that perhaps every Q1 need not be that way.
Now, have I determined my new starting point?  Eh.  Maybe.  I think the secret is just starting somewhere and letting that initial push carry me forward.  So here is where I am starting.  In my last post, where I basically just informed the readers that my daily mobile snapshots will be hosted somewhere else, I alluded to more changes that were in the works.  Those have been delayed.  I have purchased a new domain to serve as a photography portfolio separate from this scatterbrained, anything and everything blog.  But it is not finished.  And I have decided (or reminded myself, rather) that the creating must come before presenting the creation.  Seems intuitive, doesn't it?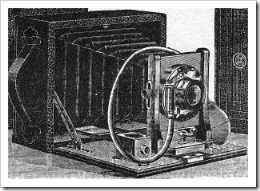 The completed site as it exists now in my head, however, will consist of three equal branches:  digital, antique and primitive.  The digital photograph section will basically consist of what already exists when you click on the 'photography' link now – images taken with a digital camera and, in most cases, digitally processed to some degree.  The primitive photography will be experimentations with pinhole cameras that I will construct myself – the artist's creation being not only the finished product but also the means and the method.  The antique branch will initially be served by my newest toy – an early twentieth century Conley Model VII folding camera that I rescued from a Savannah, Georgia boutique and have determined to rehabilitate.  There is a snapshot of it somewhere, a couple of days back.  The shutter (a Wollensak Junior manufactured in Rochester, NY sometime between 1901 and 1911… which is as close as I can pinpoint the date of origin), bellows and camera body mechanisms work absolutely perfectly, but it needs a new lens, ground glass and dry plate holder.  I'm scouring the internet for them now.
I alluded to the Alvaro Mutis book I've been reading for what seems like forever.  In short, I love it.  The only reason I'm struggling through it is because I can't seem to keep my eyes open long enough to read more than a precious few pages at one time.  Outside the busy season, I hope to move through my sizeable to-read stack a bit more rapidly.  Maqroll the Gaviero is a protagonist after my own heart:  a lifelong wanderer addicted to rashly taking on hopeless quests that promise greatness but only deliver complication, loss, heartache and utter failure.  He has no use for material things, though he continually concocts or joins his companions in complex schemes in the pursuit of great wealth.  But it is the journey, the process, that interests him.  When one of his ventures turns out improbably successful, he signs his share of the fortune over to his friend and business partner, having no need for it himself.  To his very few lifelong friends, he is unwaveringly loyal.  I have only one more story left in the seven-volume collection, and I am more than a little sad that I will soon have no more adventures to follow.  One of the more enjoyable literary characters I've come across.  I heartily recommend the book for those of you who may be looking for some not-so-light reading.
And, speaking of which… as the evening is coming to a close, I am going to retire once again to my book.  Watch this space.  There is a lot going on.