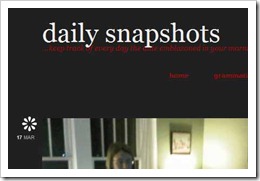 Some of you may have noticed a minor change or two tonight. 
The daily snapshots are now hosted at tumblr, where I can post my random photographs directly from my phone and update the social networks automatically – because, you know, this is important stuff that must be shared with the world.  Actually, since the snapshots are bearing an unfair share of the total blog activity burden as of late (I will blame tax season… as is fashionable this time of year among those of my noble profession), I am inclined to at least streamline the process and allow a larger number of readers, followers and friends to discover, if they desire to discover such things, that I am, indeed, still alive. 
Alas, the nifty lightbox effect no longer works.  I will look into resurrecting that feature as time and taxes permit.
Look for a few more developments to take place here over the next week or so.  Again, we are talking mostly changes in the way my content is displayed and not changes in the content itself.  Heavens, no.