So… I have been at this weblog thing for over a year now, and I am still struggling with getting-started issues.  This site has never, ever been fully fleshed out.  Here on the longest 'step 1' ever, I can only claim to have figured out what this blog is not.  For example, this blog is not:
a political blog.  Sad to say.  I started this thing as the '07 presidential primaries were heating up, and I do have strong feelings in regards to social and political and even theological issues.  However, a) there are more informed and committed professionals already airing opinions on all topics political.  My screeds have never added anything new to the discussion, and b) now I am finding myself disillusioned with the whole affair.  Money, and the power it generates, has corrupted everything.  No one is immune.  The political discussion in the U.S. is dumbed-down and exhausting.  Basically, I'm leaving the battle against that to others. 
a health/fitness log.  I do need some method of holding myself accountable for maintaining a healthy lifestyle, but this is not the place.  Perhaps my wife's new Wii Fit will serve that purpose.  But sharing my weight and exercise habits (or lack thereof) with the rest of the known universe isn't so much motivating as it is really, really depressing.
a productivity blog.  There are several outstanding bloggers that do this very well.  They inspire me to adopt their practices as my own.  If something comes along that I find especially useful, I will certainly share it… but I will largely leave it to the innovators and be content to watch from the electronic sidelines.
a 'thought dump.'  Let me say:  I really love facebook.  It is perfect for posting silly rants, overly strong opinions and other miscellany.  I like sharing those odd pieces of myself with my 300+ internet "friends."  It is a marvel.  So I will let facebook be facebook.  Everything in its place.  The overarching theme that is emerging is:  not here. 
My website needs to be, and will be, a place for me to express myself creatively.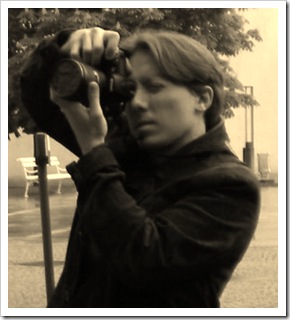 My blog is a journal of personal creativity.  Where fitness, politics, religion, family life, GTD mentality and internet functions intersect with that creativity, they will occasionally show up here.  But, largely, this blog will return to its original purpose at its inception: to chronicle what Barton Fink called "the life of a mind."  My ideas regarding what direction my writing or photography will take, or decisions to dabble in other creative pursuits (God help me if I decide to try to paint something again), will be fleshed out here in hopes of highlighting my personal creative processes.  Whether that will be useful to anyone is beside the point.  Making my blog about something is the main objective here.
My daily snapshots will remain in some form or fashion.  The act of cataloging each day that passes has truly served to make me more mindful and reverent of the passage of time.  Where keeping a diary or attempting to write one blog post per day might often be overwhelming and sometimes (during tax season, perhaps) impossible, snapping a picture with my mobile phone and taking half a minute to post it on the internet serves just as well as a method of rendering each day unique. 
My photography will continue to be featured here.  Hopefully I will begin to work with specific projects in mind rather than just taking and posting unrelated pictures at random.  The key seems to be finding the right mixture of constraint and freedom.
Additionally, it is my intention to devote much more screen time to my writing – both in poetry and prose.  Look.  This will not always be good, but I intend to try and craft my words and publish only those works that are complete and deemed 'worthy' (by me).  There will be branches leaping off of my home page that will link to each of these projects.
So:  the blog and the mobile snapshots will represent the process, while the photographs and writings will represent the product.  Process and product.  Anything that lies outside of those categories is as of this moment disallowed.
…
Meanwhile, I am giving myself until the 12:01 AM on January 1, 2010 to get this website and all its pieces in the form it will be in for the remainder of the year.  I cannot tell you how many times I have sat down with the intent of writing something and ended up just tinkering with the right way to feed my blog posts to twitter or display a specific font in my page menu.  I am not a web designer, nor do I want to be.  So, if you log on New Year's Day, you will see this site in its official 2010 layout.  Any further changes will be miniscule or will be placed on the back burner until 2011.  2010 is about creating art, not about creating a web space to display that art. 
Now if you will excuse me, I have approximately a day and a half to whip grammaticaster.com  into shape.  Adieu!